Current project: the iconic Kingston Butter Factory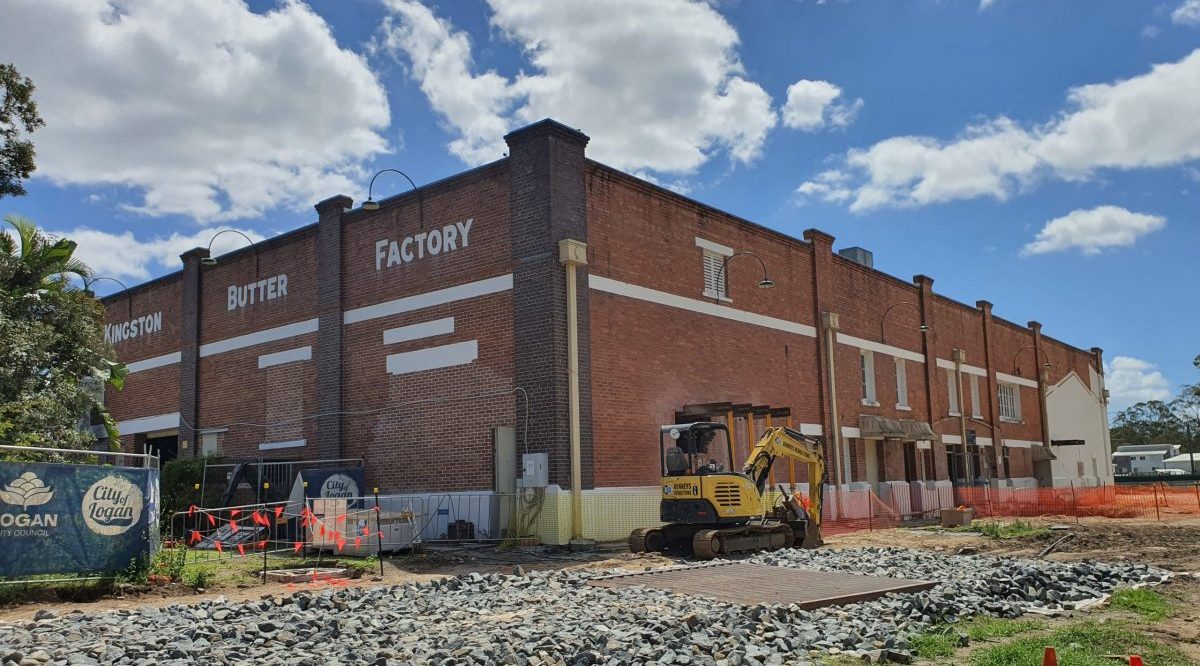 Back in April 2020, Logan City Council engaged Box&Co for the construction of the Kingston Butter Factory redevelopment – a sprawling project that will deliver a world-class arts, culture and entertainment precinct.
With a $17M contract value, this huge undertaking is one that we were excited to take on, as it utilises so many different aspects of our expertise.
Featuring large-scale civil works including the delivery of a new car park and vehicle bridge, the project also involves the renovation and refurbishment of the existing Kingston Butter Factory and an existing heritage cottage, as well as the creation of a new outdoor stage and heritage centre.
With the existing venue becoming a theatre, living museum and event space, the precinct aims to spotlight the rich history of Logan city. With plans to host events and festivals, the site's goal is to attract more visitors to the region whilst also incorporating elements that recognise and celebrate the customs, spirituality and connection to country of the First Nations Australians who originally inhabited the land.
A contract with this many deliverables requires extremely meticulous and diligent project management, and our team has been working closely and collaboratively with Logan City Council to make sure each and every desired outcome is achieved. As the site has existing buildings and structures, we need to carefully manage these in order to ensure the required  targets are met and, on such a carefully designed project, we need to ensure we deliver the highest quality workmanship across the board. With the job expected to complete in late 2021, we're on track to meet and surpass expectations and are uncovering fascinating historical artefacts as we go – watch this space for more…
---